Why a 4K Laser Golf Simulator Projector Is the Best Choice to Simulate Play against Scottie Scheffler at Home?
When you buy a golf simulator, most companies will quote a generic projector with 5000- lumens. Outside of the camera, the projector is the most important part of the system, and the only way you can read the slope of the green, determine your lie in the fairway, give you an opportunity to shoot -11 for the simulated Master's win against Scheffler.
So, unless you're just learning to play golf, you are probably looking to have a projected image on the screen that is as good as the clubs you use. The good news is that getting a great projector doesn't cost much more than a generic "5000 lumen" model – and we will guide you on how to pick a perfect projector for your simulator.
Most Principal Factors in a 4K Home Golf Simulator (Simulation Theater) Projector:
Color Accuracy for an immersive simulation experience

Laser light instead of a lamp for a bright screen

4K instead of WUXGA resolution to see the details

Easy to mount and adjust to fill your screen

Ability to be used for showing movies and watching golf
In 2022, Simulation Theaters are sweeping the nation and golf projectors like the LK936ST are leading the way. Dual-purpose golf simulation and home theaters are popping up everywhere and allowing consumers to bring the TopGolf concept home. 
Golf simulators with an elevated level of detail and color accuracy have become the number one item on a golfer's wish list. In a blind comparison test, 72% of Avid Golfers surveyed preferred 4K golf sim images vs 1080p.
Why Is Color Accuracy Important?
The biggest benefit of a 4K golf projector is the color gamut that helps produce a real-to-life experience. Look for at least 92% coverage under Rec.709 as the determining factor for color accuracy to see the true blues of the two pools on either side of the green that guard Augusta's popular #15 par-5 and the crisp greens of the swaying grass around your favorite course obstacles. The BenQ LK projector models deliver the entire Rec.709 color space to the screen – enabling you to see subtleties that you may miss on other, less accurate projectors.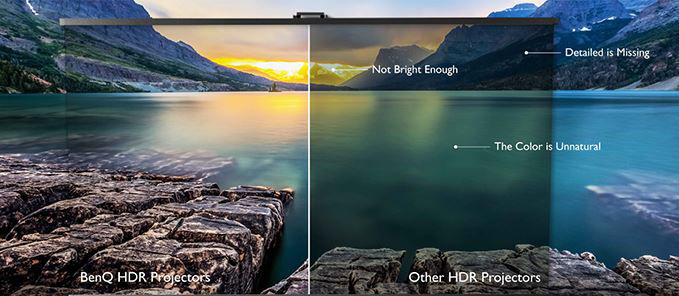 BenQ engineers are big on measurements.  We measure brightness (5000 ANSI lumens) but also color using industry-standard color space measurements – just like our award-winning photography monitors. 
Lamp or laser – Which Is Better?
A laser projector does not degrade over time as quickly as a lamp projector and will last 20+ years, well beyond its life expectancy.  A good set of clubs can last you a lifetime, so why would you settle for a lamp projector that will have maintenance costs and an inevitable yellow image over time?  
Titleist says that over 80% of its PGA TOUR players, week-to-week, use Pro V1 and Pro V1x golf balls.  If you value the same quality and dependability in your simulator setup as your golf gear, then a laser projector should be part of your setup.  Why?  There are three reasons unique to a laser projector when used with a golf simulator.
Reason #1 – Instant on and off
When you are ready to show off your new setup to your friends – you don't want to wait for 1-2 minutes until the lamp gets to be bright enough to start swinging. Laser projectors turn on in just a few seconds – and turn off quickly when you are done.
Reason #2 – They stay bright
Want to play golf instead of replacing lamps? The laser projector will deliver constant bright images for well over a decade in a golf simulator and be much brighter than a similarly rated lamp-based projector year over year. Why? A projector lamp with 4000 hours of lamp life loses brightness after each hour of use until it reaches 50% brightness – when it is replaced. That means your projector could only be showing 3000 lumens on the screen after a year or so of use – and less after that. Of course, you can change the lamp – but at a cost. A laser projector will also become less bright – but at a much slower rate – as you can see here on the chart.
Reason #3 – No hassle performance
Laser projectors are like your flat panel TV – they just work. When a lamp goes out on a projector – golfing stops until you get a new one. With a laser projector, the module is rated for 20,000 hours of life – enabling you to concentrate on your approach shot rather than worry when you need to buy another lamp.
Imagine that you are on getting ready for your approach shot on #18 at Augusta with a one-shot lead on Scottie – and the "clean filter now" warning light pops up. No fun. The solution – get a projector that doesn't
High-quality Resolution. What Is the Difference between 4K vs WUXGA?
Resolution is a key factor in an immersive golf simulator.  With a larger screen, you need more pixels to properly fill the screen so that it feels like you are there.   Simply put, a 4K projector has 8.3 million pixels – about six million more than a WUXGA projector. In a recent survey of more than 400 golfers, over 84% of golf simulator owners preferred TRUE 4K resolution for their premium impact screens. Look for a projector that specifies 3840×2160 resolution to produce TRUE 4K.
In the same survey, Avid Golfers interested in owning a golf simulator in their home deemed Projector Features / Function the most important factor of a golf simulator setup and High resolution – 4K was the most important attribute of a golf sim room.
You don't have to break the bank to get the best image for your golf simulator experience. However, you will want to spend some time looking at the quality of the projector that produces the image on the screen. Or you may end up putting the equivalent of an untuned V8 engine from your SUV into a racecar.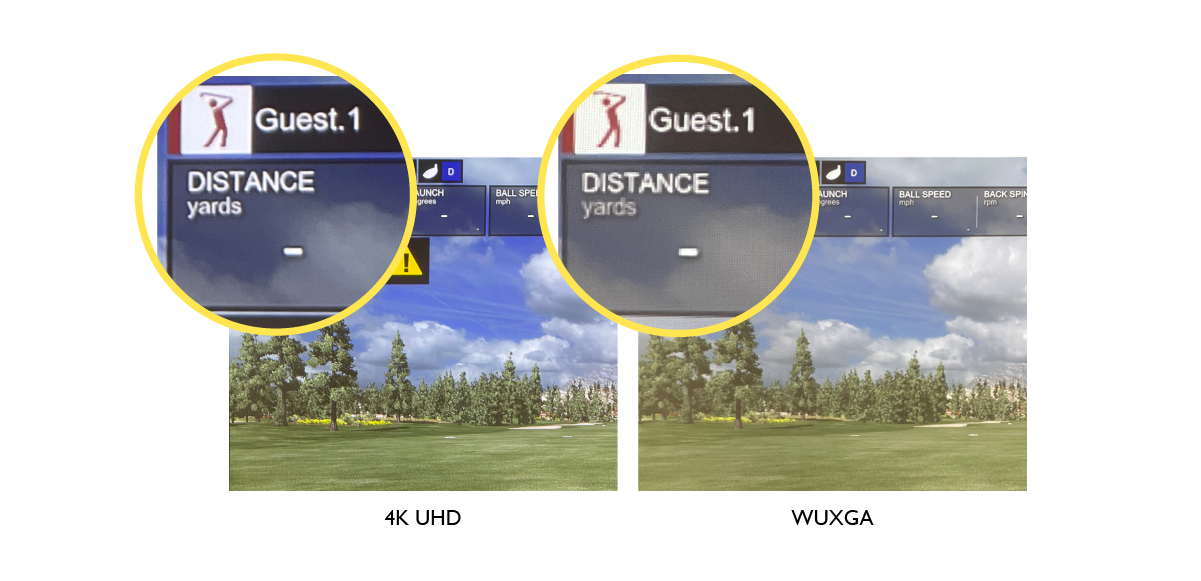 Mount Type & Screen Size – How to achieve the best 4K home golf image
4k is easy to achieve in home installations, but the size of your screen will determine your 4k golf needs. Look for projectors with a short-throw lens that can be mounted at the optimal distance, 4 feet from the screen to remove the likelihood of a shadow being cast while you swing.
What the sim-in-a-box dealers won't mention is the quality of the generic projector that comes with their package deals are set up for low-quality images that meet the minimal requirements to run the software. More than 69% of golf simulator owners have upgraded or considered upgrading their projector since their initial golf sim purchase. 
Panasonic
PT-VMZ50
BenQ
LU930
BenQ
LU935
BenQ
LK936ST

Ceiling / Cart

Short Throw

Ceiling / Floor

Short Throw
https://www.benq.com/en-us/business/golf-simulator-projector/resources/why-a-4k-laser-golf-simulator-projector-is-the-best-choice.html?utm_campaign=eB2B::%20Golf%20Simulation&utm_content=209586745&utm_medium=social&utm_source=facebook&hss_channel=fbp-232721073539806&fbclid=IwAR1xWQ4BQwD-d5U4WfP16mkjLatndkzdMaCDGDcIjKPYoPe2vUbyX7DZmZk